Results – UFC 215: Nunes vs Shevchenko II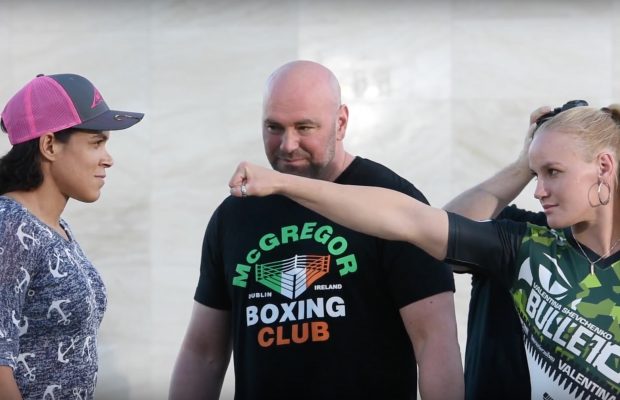 UFC 215 Main Card. (3am GMT) Live on BT Sport 2
__________________________________________________________________________________________
Amanda Nunes (C) vs Valentina Shevchenko (1)
After being forced to wait nearly two months for this rematch and after the main event fell off due to Ray Borg suffering an illness. There was a lot riding on this fight. Nunes has been on an incredible streak. She fell to Cat Zingano back in September 2014 and was fading in the last round of her first meeting with Shevchenko. Valentina has been on an impressive run herself. Out striking Holly Holm and submitting Juliana Pena.
Round one saw Valentina stand on the outside, away from Amanda's power, waiting for her to come forward and to counter her. Nunes landed the harder strikes but didn't unleash herself. Fighting smart so that she doesn't gas early should this fight go into the later rounds.
Valentina ups the pace in the second, she has a small amount of success with the straight left, even landing a superman punch early on. Both women are showing each other a lot of respect, both well aware what the other is capable of. Valentina really starts to move up the gears towards the end of the second. Throwing a spinning back kick, a superman punch followed by a kick to the body which should get her the nod for the second round.
Shevchenko continues the third round right where she left off. Countering everything that Nunes throws at her. Valentina throws her superman punch to right low kick combo again. The pace she throws it is incredible. She attempts a spinning back elbow that misses which Nunes counters with seconds later with a high kick that is checked. Referee John McCartney has warned Nunes twice about her open fist. Another warning and she will possibly have a point deducted.
Nunes has slowed the attack from Shevchenko with her kicks to the thigh and body, attacking her as she comes in. Valentina lands some hard counters along with a couple of right hooks. It is a very tit for tat fight. Very hard to call these rounds for either lady. The general consensus online going into the fifth round is that the fight is even on the judge's scorecard.
Amanda changes it up in the fifth, closing the distance and going for a takedown. Valentina defends it. Nunes tries to clinch again but Valentina kneed her to the body. Amanda manages to take Valentina to the ground with a minute to go. This fight is so close on the scorecards that it could be the difference in her going back to ATT with another belt for the wall. The fight doesn't end when the bell rang with Shevchenko kicking Nunes off her.  Very technical fight and it is almost too close to call. That take down might do it for Amanda Nunes.
Amanda Nunes def Valentina Shevchenko via Split decision 48-47, 47-48 & 48-47
 __________________________________________________________________________________________
Neil Magny (6) vs Rafael Dos Anjos (10)
Looking at these two square off, you would have to think. How does Dos Anjos close the massive size gap here? He answered that question very early on with a low leg kick that took Magny completely off balance. Dos Anjos dominated on the ground. Using his weight effectively, dropping elbows before eventually submitting Magny with an arm triangle. Incredible performance from Dos Anjos who doesn't seem to be having any problems in his new home at welterweight.
Rafael Dos Anjos def Neil Magny via Submission (Arm Triangle) R1 – 3:43
__________________________________________________________________________________________
Henry Cejudo (2) vs Wilson Reis (5)
Prior to his UFC debut, Henry Cejudo was seen as the man who would give Demetrious Johnson his biggest challenge. That wasn't to be when the pair met back in 2016. After a split decision defeat to Joseph Benavidez, a big performance was needed tonight from Henry Cejudo.
Cejudo looked loose with a wide open karate style stance. Cejudo controlled the opening round and then showed us exactly why people were talking so highly of him prior to his UFC debut. Cejudo threw a lightning fast right hand that knocked Reis down. He sealed the deal with some ground and pound, knocking Reis out. Cejudo called for a title fight with Demetrious Johnson who is cageside and a fifty thousand dollar bonus. He should get both for that performance.
 Henry Cejudo def Wilson Reis via R2 KO – 00:25
__________________________________________________________________________________________
Ilir Latifi (10) vs Tyson Pedro (13)
After an impressive performance against Paul Craig at UFC 209 back in Match, Tyson Pedro took a massive step up in competition against Swedish veteran Ilir Latifi. Pedro lands a nice kick to the body that got Latifi's attention in the first round. The Swede managed to drag Pedro into the first second round of his career using a good combination of wrestling and ground control.
In the second round, Pedro switched up his striking, mixing kicks with punches and taking full advantage of the reach advantage he holds over Latifi. Ilir responds by rushing forward, throwing a short combination and pushing Pedro against the cage where he manages to flip him onto his back. Ilir holds Pedro against the cage, knowing that's where he holds the advantage in the fight.
Pedro has slowed down coming into the third, still landing at range but Ilir waits for his opportunity to push him against the cage and takes the Australian down to the deck. On the ground, Ilir is active in full guard, landing strikes whilst trying to pass Pedro's guard. Pedro seems to be out of ideas and tries to weather the storm as best he can until the referee separates them to end the fight. Massive win for Ilir Latifi.
Ilir Latifi def Tyson Pedro via Unanimous Decision 29-28, 29-28 & 30-27
__________________________________________________________________________________________
Jeremy Stephens (8) vs Gilbert Melendez (14 LW)
Jeremy Stephens and Gilbert Melendez get us underway on pay per view. Stephens gets the better of the early exchanges, putting together a couple of combinations early and some nice low leg kicks. The low kicks get the better of Melendez after three minutes, so much so that he is taken off his feet altogether. The round ends with Melendez on the deck and struggling to put weight on his left leg to get back to the corner. Somehow he manages to gets off the stool to answer the bell for round two.
Gilbert switches stances to protect his left leg and attempts to walk Stephens down. This works until halfway through the round when Stephens catches Gilberts bad leg and drops him again.  The second finishes the same as the first. With Gilbert on the ground and struggling to stand. His left leg looks like an alien is trying to escape below the knee with all the swelling.
The referee warns Gilbert at the start of the third that if he can't defend himself on his leg that he will stop the fight. Stephens drops Melendez with another leg kick after three minutes. Gilbert falls back and rolls straight to his feet. Impressed by the grit shown by his opponent, Stephens high fives Melendez. In the remaining couple of minutes, Stephens drops Melendez twice and gets the unanimous decision nod from the judges.
Jeremy Stephens def Gilbert Melendez via Unanimous Decision 30-26, 30-26 & 30-25
__________________________________________________________________________________________
UFC 215 Prelims. (1am GMT) Live on BT Sport 2 & UFC Fight Pass
Sara McMann (6) vs Ketlen Vieira (13)
As we have come to expect from an Olympic silver medalist wrestler, McMann uses her size to dominate Vieira early, taking her down and staying in full guard and eventually moving into full mount. Once she reaches full mount, she unleashes her hands, dropping shots on Ketlen. Ketlen manages to catch McMann's leg and goes for a leglock, taking the momentum away from her and giving her something to worry about going into round two.
Round two opens up with McMann trying to take down Ketlen against the cage. Ketlen drops elbows on Sara, forcing her to change up. Vieira manages to get McMann down, worked her way into half guard and secured a arm triangle choke. Fantastic performance from the Brazilian who is very emotional.
Ketlen Vieira def Sara McMann via Submission (Arm Triangle Choke) R2 – 4:16
__________________________________________________________________________________________
Sarah Moras vs Ashlee Evans Smith (15)
All two minutes of this fight resembled a jiu jitsu match more than an MMA fight. Sarah Moras made the most of her two years away from the UFC, getting the better of what was a tight scramble on the ground and securing an armbar finish. Evans Smith attempted to kick Moras in the face but tapped just as the kick landed with only two minutes gone. Massive win for Moras in her home country.
Sarah Moras def Ashlee Evans Smith via Submission (Armbar) R1 – 2:51
__________________________________________________________________________________________
Gavin Tucker vs Rick Glenn
We almost had an early finish with Tucker coming out and throwing a spinning back kick that grazed Rick Glenn and where he ended up with his neck taken from the back.
Glenn dropped Tucker with about a minute to go in the first with a crisp left cross. Glenn used his reach advantage well keeping Tucker on the outside. Tucker clearly upset at how the first round eneded came out into the second round angry, switching stances and landing a hard uppercut and some dirty boxing. Glenn quickly takes over and utilsies his best weapon which are his knees that are quickly depleting Tuckers engine. Edmonton is following the new unified rules and will probably award Glenn a 10-8 for the second round. Dominated all aspects of the fight.
Round three is more of the same. Tucker fading with Glenn still cruising. Little under two minutes to go and Tucker can barely stand up, attempts a leg lock which fails and turtles up. Rick Glenn takes the top and continues to land at will.
Tucker is too tough for his own good making the last minute almost tough to watch. The fight ends with Tucker standing against the cage with Glenn teeing off at will. We learned that Gavin Tucker is tough.
Rick Glenn def Gavin Tucker via Unanimous Decision 30-25, 30-24 & 29-27.
__________________________________________________________________________________________
Mitch Clarke vs Alex White
Both of these men come into the fight having had mixed luck fighting the Irish last year. Clarke was demolished by Joe Duffy whereas White overcame Artem Lobov.
Alex White landed the most significant strikes in the second round. Clinching Clarke and throwing elbows before dropping him with a knee to the body. White didn't follow Clarke down and let him stand back up. Once Clarke stood back up, White put on a striking clinic before dropping him again with ninety seconds to go. White dropped Clarke again with seconds to go in the round right before the referee saw enough and waved the fight off with twenty odd seconds to go. Mitch Clarke announces his retirement from MMA in his post fight interview with Joe Rogan.
Alex White def Mitch Clarke via R2 TKO – 4:36
__________________________________________________________________________________________
Fight Pass Prelims: (12am GMT) Live on UFC Fight Pass
Luis Henrique vs Arjan Singh Bhullar
Somewhat historic fight with Arjan Singh Bhullar being the first Indian to make the walk to the Octagon. Both men come from high level wrestling backgrounds. Bhullar got the better of round one, landing a heavy right overhand.
Henrique went for a head kick early in round two that was checked by Bhullar. With two minutes to go in the round, Bhullar dropped Henrique with a heavy overhand right to the temple before lifting the 244.5lb heavyweight over his head and dropping him into half guard. Bhullar finished the round on top knowing that dropping Henrique and the dominant top control comfortably won him the round.
Henrique switched things up in round three, immediately taking the centre of the octagon early, landing two heavy kicks to the body and the leg of Singh Bhullar. The pace of the fight slowed with a couple of minutes left, both men evidently tired from the previous thirteen minutes. Singh Bhullar landed a couple of couple of heavy strikes to end the round and to cap a successful debut in the UFC.
Arjan Singh Bhullar def Luis Henrique via Unanimous Decision 29-28 x3
__________________________________________________________________________________________
Kajan Johnson vs Adriano Martins
Incredibly timid fight to watch right until the end. First round saw very little action until the very last few seconds when Martins dropped Johnson with a left hand and attempted a guillotine. Second round saw a similar tactic from Johnson sticking to the cage and landing when Martins attempted to close in. Start of round three saw Kajan catch Martins with a counter right hand behind the ear which turned off the lights. Great finish to what had been a slow and somewhat frustrating fight.
Kajan Johnson def Adriano Martins via R3 KO – 0:49
---