PFL 2021 #7: Playoffs Results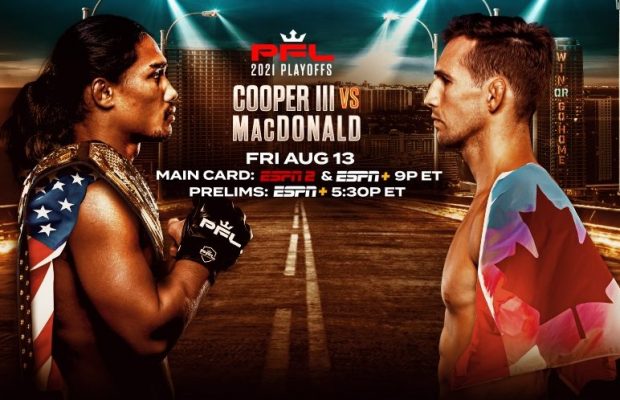 PFL began their 2021 Playoffs tonight in an exciting night of fights. Below are the results.
Elvin Espinoza def Hopeton Stewart via Submission (Round 1 Rear Naked Choke)
Espinoza moves to 6-0 after making easy work of Stewart. The Nicaraguan scored an early takedown and used it to work in a rear naked choke and puts Stewart to sleep face down on the mat.
Michael Lombardo def Kyron Bowen via KO/TKO (Round 1 Calf Kicks)
Lombardo looked impressive in this one on the feet. Landed a few nice overhand rights. The game changer was the calf kicks. He badly hurt Bowen with one that put him on his back, Lombardo then allowed him up. He finished with another big calf kick moments later and the referee stepped in.
Magomed Umalatov def Leandro Silva via Unanimous Decision
This ended up being a technical tentative kickboxing match. We didn't see many explosive movements that we were expecting. Umalatov did great work off his back foot, nice accurate punches, consistent leg kicks and his footwork was spot on. He didn't really get out of first gear and that's the first time he's gone the distance. Cardio doesn't seem to be an issue. Fair play to Silva, it was expected that he'd be a sacrificial lamb after stepping in on a day's notice and he ended up being a very game opponent.
Brett Cooper def Tyler Hill via KO/TKO (Round 1 Punches)
Great performance from Cooper. Dominated from start to finish. He was utilising takedowns early to punch the head off Hill as he was getting back up. In the clinch and the open water, Cooper was landing a barrage of uppercuts. Finished it with a couple of big right hands sending Hill face first into the canvas.
Olivier Aubin-Mercier def Darrell Horcher via Unanimous Decision
Aubin-Mercier pretty much dominated the first round through striking. He hurt Horcher early with some leg kicks. Horcher did come closest to finishing it in the first with a big right hand dropping Aubin-Mercier by the fence. Aubin-Mercier dominated the second round with his grappling, landing big shots from top while trying to work for a rear naked choke. Horcher did a good job fighting the hands. Third round went similar to the second, with less threat of a fight ending scenario.
Gleison Tibau def Micah Terrill via Submission (Round 1 Arm Triangle)
Tibau was on top form here. He was very effective with his left hand early on. The ending sequence began with a big takedown by the cage, followed by a quick transition into an arm triangle which put Terrill to sleep before he could tap.
Loik Radzhabov def Alex Martinez via Unanimous Decision
Radzhabov dominated for most of the round through grappling, although landed very little offence of note. The action kicked off in the last minute of the round with Radzhabov landing some big shots and cutting Martinez. The second round was quite even, Martinez worked in more of his offensive grappling by the cage. Radzhabov attempted a rear naked choke which Martinez ended up using to reverse position. Radzhabov had the better of the third with his grappling in what was a bit of a scramble-fest at times. The action was relentless. Radzhabov advances to the final.
Raush Manfio def Clay Collard via Unanimous Decision
This was a really close fight. Both men came to throw down. What we got was a three round stand-up war. Non stop action and plenty of striking on each side. Collard had great volume through the first two and faded a little in the third. Manfio started a little slower. This was one of the highlights of the season. Manfio joins Radzhabov in the final.
Magomed Magomedkerimov def Sadibou Sy via Unanimous Decision
Magomedkerimov was utterly dominant in the first. He got the takedown within seconds off a Sy low kick. From there he just grinded him down, landed shots and attempted an Ezequiel choke. The second round was the closest, with Sy being able to keep it standing for the majority and was landing good shots here and there. Magomedkerimov was still constantly doing work. Round three swung back to Magomedkerimov dominance where he used more grappling and landed good strikes on the feet and he goes on to the final.
Ray Cooper III def Rory MacDonald via Unanimous Decision
Most of the round was spent holding position in the grappling and clinch exchanges. MacDonald controlled on the cage for a few minutes, however barely threw any shots. Cooper III landed a takedown with about two minutes to go and he landed some shots from top. He attempted an arm triangle at the end of the round. Cooper III landed an early takedown in the second and controlled the round from there (barring a brief stand-up by the ref before Cooper III got it down again), throwing in some punches to keep busy. Round three started with yet another takedown for Cooper III. MacDonald was unable to get up or offer any real offence. Cooper III will face Magomedkerimov in the final, which is a repeat of the 2018 final and will be the third contest between the two.