About Last Night's Action: UFC Vegas 62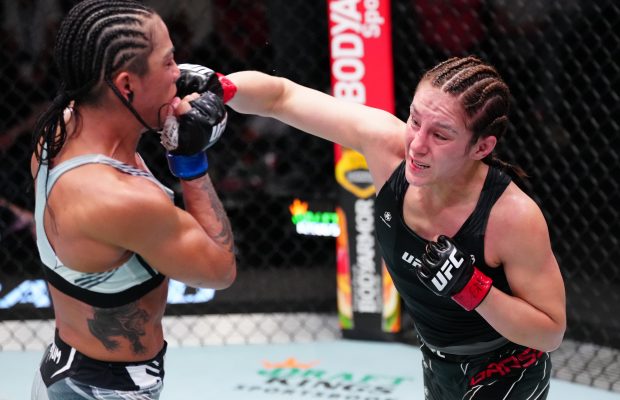 Still Surging
Alexa Grasso remained undefeated since moving to the flyweight division on Saturday evening, earning a unanimous decision win over Viviane Araujo in a competitive, but still clear main event.
From the outset, Grasso's edges in speed and precision were evident. Throughout the contest, the 29-year-old Mexican got the better of the exchanges, stinging her Brazilian foe and doing well to scramble to her feet quickly when Araujo looked to change the location of the action.
While neither was ever significantly hurt, Grasso's superiority was clear and the scores reflected that. Now 4-0 since moving to the 125-pound weight class, Grasso should be no more than one additional victory away from challenging for championship gold, regardless of what comes next for titleholder Valentina Shevchenko.
This was a good win over a tough opponent, and the kind of victory that helps keep things moving at the top of the division.
Enter the Dragon
You can only know how good a fighter is and how far they're capable of going until they're in the cage with quality, established competition.
Despite entering on a three-fight winning streak, it was difficult to say where Jonathan Martinez fit in the loaded bantamweight division, but following his thorough beating of Cub Swanson on Saturday night, it's clear that "Dragon" is settled into the 'Second 15' and capable of continuing to march forward. The Factory X representative nearly finished Swanson late in the first, and then cut him down in the second, collecting the win on the strength of a series of punishing inside low kicks.
Martinez is one of those guys that has previously flown under the radar because he'd never shared the cage with a major name. But he's now won four straight, six of his last seven, and eight of his last 10… and it should be nine because he beat Andre Ewell; I don't care what the judges said.
Even if Swanson probably shouldn't have made the move down in weight, this is an excellent effort and result for Martinez, who should be facing someone with a number next to their name or very close in his next appearance.
Hammers and Nails
It took Dusko Todorovic a little longer to realize that Jordan Wright doesn't like being the nail, but once he did, the Serbian middleweight was able to get him out of there in a hurry.
Todorovic oddly came out looking to wrestle, giving Wright the opportunity to pile up the offensive output in the first. But in the second, Todorovic got a little more loose with his hands, stinging his fellow Contender Series alum, and once he had Wright hurt, he was able to find the finish.
The 28-year-old has shown flashes at times, but the Fight IQ just isn't there, and that's one of those things you either have or you don't. He should continue to turn up in slobberknockers like this going forward, but as for scaling the divisional ladder, Todorovic might have already reached his ceiling.
Back in the Win Column
It was a vintage effort from Raphael Assuncao on Saturday night, as the veteran bantamweight stuck to the game plan, countered well, and collecting a unanimous decision win over Victor Henry.
Assuncao turned 40 in the summer and entered on a four-fight losing streak, having been knocked out in each of his last two appearances. There were no signs of decline or lingering issues in this one though, as he met Henry head-on for every interaction, getting the better of most of them before getting his hand raised for the first time in more than four years.
Not that anyone needed a reminder, but just in case, this result further illustrates the depth of talent that exists in the bantamweight ranks and how difficult it is to climb the ladder in the 135-pound ranks.
Menifield Goes Atomic Again
Alonzo Menifield made quick work of Misha Cirkunov in Saturday's main card opener, wobbling him with a left hand to the temple, dropping him with a right hand to the chin, and putting him out with a series of coffin nails that were honestly unnecessary.
The hulking light heavyweight remains an intriguing figure in the 205-pound weight class: a physical specimen with established power and clear athleticism who continues to build his game, he's also 34 years old, which means the window of opportunity won't be open for too much longer.
This is a good win and an emphatic effort, giving Menifield four victories in his last five outings, and it will be really interesting to see who he gets paired off with next.
Preliminary Card Thoughts
There was discussion during the final preliminary card fight between Mana Martinez and Brandon Davis about whether it said something about the quality of competition / level of competitors in the UFC, with the consensus being that neither man will ever climb higher than the middle of the pack in the 135-pound weight class.
What needs to be explored more is whether there is a place for fighters like that on the UFC roster?
The hectic schedule and constant influx of talent from shoulder programming like Dana White's Contender and The Ultimate Fighter, the roster is bloated with competitors needing fights, and having a deep roster helps fill out cards and find replacements. That said, an argument can be made for raising the overall level of talent and reducing the number of fights per card.
Sounds like a future episode of Speaker's Corner if you ask me.
While Jacob Malkoun scored a solid win on Saturday's prelims, the real story of his fight with Nick Maximov was the injury suffered by the Nick Diaz Academy representative in the first round and everyone's insistence that he continue fighting until the final horn.
Midway through the opening frame, it was clear Maximov was dealing with some kind of leg issue, and when he told his corner as much between frames, they simply hustled him back out there. The doctor came in to make sure Maximov said he wanted to continue, and then he 24-year-old proceeded to get manhandled while grimacing for the next five minutes before the scene repeated itself in the third.
At some point, there needs to be something done about corners that refuse to stop fights or empowering officials to make a call based on the well-being of the athlete. There was no reason for Maximov to keep going, he gained nothing (except perhaps more damage) by being out there, and yet three different people charged with protecting him did not effectively do so.
We need to do better than this.
Joanderson Brito continues to show that his debut loss to Bill Algeo might be an outlier, as the Brazilian collected his second consecutive first-round stoppage win on Saturday.
Paired off with late replacement Lucas Alexander, the 27-year-old ran across the Octagon, manhandled his countryman with a couple big slams, and climbed on his back. From there, it was academic, as Brito worked for the choke, sunk in the arm, and got the tap as they fell backwards to the canvas.
This was the kind of effort you wanted to see from Brito under these circumstance — matched up with a promotional newcomer who had a week to prepare and coming off a quick win over Andre Fili; handling his business swiftly and showing he's deserving of a step up in competition at the same time.
It's nine straight and counting for Piera Rodriguez, who added to her undefeated record by collecting a unanimous decision win over Sam Hughes on Saturday.
A member of the DWCS Class of '21, "La Fiera" used a combination of timely takedowns and effective striking in the clinch to earn scores of 29-28 across the board against the game and unrelenting Hughes. Less than a month away from her 30th birthday, the Venezuelan-born Rodriguez profiles as someone that is going to get a chance to climb the divisional ladder and could find her way into the Top 15 at strawweight.
From there, the work gets much more difficult, but for now, she's worth tracking.
While there is still clearly plenty of room to improve, Tatsuro Taira is quickly proving he's one of the top prospects on the UFC roster.
Saturday evening, the 22-year-old Japanese prospect dominated CJ Vergara on the canvas for nearly two full frames, spending much of the second hunting for chokes on the DWCS alum's back before making a lovely transition to attack the arm. He secured the tap as he shifted belly-down in the final minute, pushing his record to 12-0 overall with the win, and becomes another member of the growing collection of emerging talents in the flyweight division with bright, promising futures.
Pete Rodriguez kicked off the main card by quickly dispatching Mike Jackson, finishing the combat sports vagabond with a step-in knee and coffin nails against the fence. While he's still young, raw, and largely unproven, Rodriguez has shown in two appearances that he likes to sling hands and carries a little pop, so he should be good for a few more entertaining assignments early in the night like this going forward.