Results & Live Blog – UFC 216: Tony Ferguson vs Kevin Lee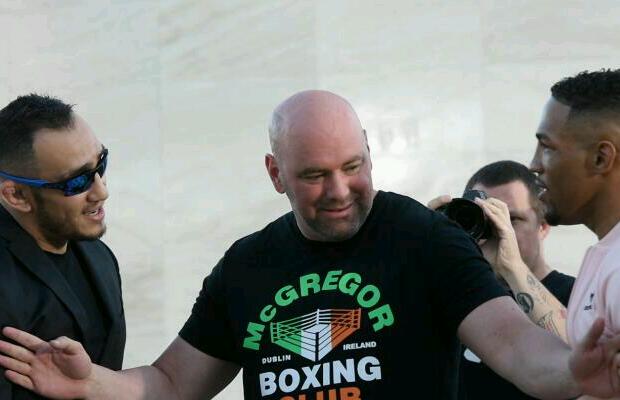 Tony Ferguson (2) vs Kevin Lee (7)
Round 1: Massive first round for Kevin Lee. Unlike most first rounds of a championship fight, these guys didn't feel each other out at all. Kevin dropped Tony early on but Tony recovered and was attacking for submissions. Kevin finished the round on top, landing some heavy ground and pound before the bell plus a little shot after the bell.
Round 2: The second round picks up right where the first left off, both men throwing heavy. Tony is teasing takedowns and ankle picks with his hands. Lee the more aggressive who is landing heavy on Ferguson but is beginning to fade towards the end of the round. Lee is probably two rounds up against Ferguson but Tony can go all day. This is about to get interesting.
Round 3: Lee scores a massive takedown against the fence and is in half-mount with Ferguson pressed against the fence. He holds it for a few seconds but Tony escapes and starts to walk him down. This is probably part of Tony's gameplan. Kevin scores a nice takedown but in the scramble loses his arm to Tony and nearly gets submitted, Lee escapes but finds his way into a triangle after trying to drop some ground and pound on Tony from half guard. Like Borg in the fight previous, Kevin Lee does everything he can to escape but Ferguson is too good on the ground and gets the tap. Tony Ferguson is the new UFC Interim Lightweight Champion. The World now awaits a tweet or facebook post from Conor McGregor.
Tony Ferguson defeats Kevin Lee via Submission (Triangle Choke, Round 3: 4:02)
Demetrious Johnson (C) vs Ray Borg (3)
We were supposed to witness this fight a couple of weeks back at UFC 215 but it just wasn't to be. Now, what will we witness tonight? Will we see history made or will we see one of the biggest upsets in MMA history?
Round 1: DJ opens up with a series of leg kicks on Borg's front foot, Borg is quick but DJ is on another level, scoring a takedown and attempting a rear naked choke that Ray escapes. DJ lands a massive kick to the chest of Borg with about two minutes gone. It becomes clear after three minutes that DJ is on another level when the broadcast shows a graphic that DJ has landed twenty plus strikes when Borg hasn't landed a single one. Borg is in serious trouble, still on the ground from when that kick landed to the chest with DJ passing his guard at will. Easy 10-9 Round for DJ.
Round 2: Borg starts round two a little stronger, clinching DJ against the cage and holding him. DJ reverses it and finds himself almost in a guillotine position. Borg does get into some promising positions but DJ counters him with everything including strikes from the shoulders. Another easy round for DJ who is cruising in second gear.
Round 3: We are really seeing how special DJ is in this round. He is just better everywhere. A standout moment is a couple of knees from half guard. He seems to be able to execute whatever move he wants. Despite being outclassed, Borg is not giving up. This isn't a case of Ray Borg being a bad fighter, this is a case of DJ just being not only on another level, he is in a different building down the street. Borg does manage to get a submission attempt at the end of the round but the bell doesn't give him the time to do what he needs.
Round 4: DJ is again on another level. Borg is hanging in now at this stage, taking all types of strikes from every position. Scores another round after five minutes of utter dominance. A lot has to be said for how game Borg is.
Round 5: More of the same, DJ gets into full mount and turns Borg, they scramble and go to the cage. DJ is all over him like a bad smell. DJ picks up Borg, tosses him, takes his arm mid-air and secures a nasty armbar finish. You could see the pain on Borg's face who tried everything to escape but eventually just had to tap. History is made tonight in Las Vegas. Eleven title defenses for DJ and a dislocated shoulder for Ray Borg. Incredible.
Demetrious Johnson defeats Ray Borg via Submission (Armbar, Round 5: 3:15)
Fabricio Werdum (2) vs Walt Harris
Werdum vs Lewis had been removed from the card after an injury to Lewis. The UFC announced that Walt Harris who was scheduled to fight Mark Godbeer would step up on a few hours notice to face Werdum on the PPV portion of the card.
Werdum stuck to his roots and brought the fight straight to the ground with a single leg takedown. Werdum didn't take long to scramble and to grab Walts arm and get the armbar finish. It was a step too far for Walt Harris but fair play to him for stepping up.
Fabricio Werdum defeats Walt Harris via Submission (Armbar, Round 1, 1:05)
Mara Romero Borella vs Kalindra Faria
While neither of these ladies are quite household names just yet, neither was Paige Van Zant or Joanna Jedrzejczyk when they made their debuts. Mara Romero Borella put on an incredible performance getting a rear naked choke in less than two minutes over the highly touted Kalindra Faria. She is the very first Italian woman to step foot into the Octagon and put on a show that will definitely establish herself as a contender in the new flyweight division.
Mara Romero Borella defeats Kalindra Faria via Submission (Rear Naked Choke, Round 1, 2:54)
Beneil Dariush (12) vs Evan Dunham (14)
Beneil Dariush and Evan Dunham got us off to a really entertaining start on the main card. Dariush almost got the fight finished after a couple of minutes, landing heavy elbows that put Dunham on the ground. They scramble on the ground but Dariush is firmly in control here. In top position dropping shots onto his opponent who seems to be really struggling to clear the cobwebs.
Dunham gets a takedown early in the second after catching Dariush mid flying knee. Even when he is on his back, Dariush is still attacking Dunham with strikes. Dunham isn't really upping the pace, it's more a case that Dariush is slowing down and Dunham begins to start to get the better of the fight.
Dunham opens up the third with a flush head kick that connects. Dariush still looks dangerous but is slowing and is not on the same page that he was on in the first. Dunham now begins landing combinations after ninety seconds of the third. Dariush attempts to stop the momentum that Dunham is building, keeping him on the outside with jabs and leg kicks. Very close fight that will come down to how the judges scored that first round.
Evan Dunham vs Beneil Dariush declared a Majority Draw (29-28 & 28-28 x 2)
UFC 216 Prelims. Live on BT Sports 2 & UFC Fight Pass at 01:00 AM
Tom Duquesnoy vs Cody Stamann
For years, Duquesnoy was considered to be the best fighter outside of the UFC. Irish MMA fans were privileged to see him fight three times in Dublin when he fought under the BAMMA banner. Now that he has reached the UFC, he has come up against two tough tests.
Tonight we saw flashes of the 'fire kid' that earned him the reputation he was building himself when he was outside of the UFC. Short elbows, head kicks etc but he came up against a very game Cody Stamann who managed to pressure Duquesnoy and throw him off his game. It wasn't to be for Duquesnoy but that said he is still very young and isn't the finished product.
Cody Stamann defeats Tom Duquesnoy via Split Decision (29-28, 28-29 & 30-27)
Lando Vannata vs Bobby Green
After two very boring fights, we finally get a little excitement in the T-Mobile Arena. The fight was going very well with Vanatta almost stopping Bobby. With Green attempting to stand back up, Vanatta went to throw a knee that grazed Green on the face. The fight is halted and Vanatta gets a point deducted. The fight gets back underway and with no time wasted Vanatta traps Green in a guillotine choke that Green eventually escapes. The pace slows down towards the end of the round with Vanatta throwing low leg kicks and scoring a takedown. With the point deduction, we could be looking at a 9-9 round.
There is something Conor McGregoresque about Vanatta. You watch him fighting firmly on the edge of your seat. As good as he is on the offensive, he does take a lot of damage and you just don't know how he could sustain a successful career fighting like this. That said his style is a joy to watch. Vanatta lands a strong right hand with about 1:15 left in round two that takes the wind out of Green who responds with a knee to the chest. Vanatta becomes flat-footed like he did at the end of the Tony Ferguson fight towards the end of the second. That said his output is high enough so that Green can't fully capitalize on it.
Footwork has gone out of the window here in the third, both men are flat footed and standing within range and exchanging jabs and straight shots. What might go against Vanatta on the scorecard is the volume of blood on Vanatta's face. Bobby Green almost knocks Vanatta out with seconds left in the third. What kept Vanatta on his feet is beyond me. Fantastic fight that is worth your time to go back and watch if you haven't seen it.
Bobby Green vs Lando Vanatta is declared a draw (29-27, 29-27 & 28-28)
Pearl Gonzalez vs Poliana Botelho
Pearl Gonzalez probably has a better background story than most UFC fighters on the roster. Her UFC debut back at UFC 210 for her will probably be remembered for all the wrong reasons. Pearl has opted for a wrestling game plan. Clinching her opponent on the cage and looking for a takedown. The referee does not seem to want to separate them as Poliana seems to be keeping active dropping elbows and throwing knees whilst her opponent tries to take her down.
Pearl continues her game plan against the side of the Octagon. Poliano attempts a kick that Pearl catches and tries to use it take her opponent down. Poliano uses the opportunity to land shots. Pearl clinches again but gets taken down with seconds to go. The fans are not happy as Poliana lets out a primal scream.
Poliana Botelho defeats Pearl Gonzalez by Unanimous Decision (30-27 x 3)
Matt Schnell vs Marco Beltran
Schnell and Beltran get us started on the normal prelims after a touching moment of silence that was held for the victims of the Las Vegas shootings. Both men open the fight timidly, staying at range and not throwing any combinations. That will be a tricky first round for the judges to score.
Round two is more of the same. Both staying at range but throwing kicks now. Beltran attempts a flying knee that misses. Ninety seconds remaining in the round and we have our first boos of the night. Very little to really write about. Tit for tat with Schnell slightly edging it.
Third round sees Beltran try to walk Schnell down, eventually catching him with an overhand right but with not enough power behind it to do any damage of note. There is very little happening in this round of note, the commentary team break into a discussion as to what counts as a significant strike. Schnell attempts a guillotine with seconds remaining but doesn't get the tap.
Matt Schnell defeats Marco Beltran via unanimous decison (30-27, 29-28 & 30-27)
UFC Fight Pass Early Prelims at 11.30pm
John Moraga (11) vs Magomed Bibulatov (15)
John Moraga didn't need too long to dispatch Magomed Bibulatov. Magomed came in after an incredibly impressive performance at UFC 210 in April. A lot of hype followed him here but that was derailed after about ninety seconds. An overhand right followed by a missed leg kick and a left hook nailed Bibulatov against the cage with the lights turned off. Vicious from Moraga who should expect a performance bonus to supplement his pay this evening.
John Moraga defeats Magomed Bibulatov via KO ( Round 1, 1:38)
Thales Leites (13) vs Brad Tavares
Tavares vs Leites gets us underway here after a rough week in Las Vegas. Its a subdued atmosphere in the arena, it sounds like they are fighting in an empty Ultimate Fighter gym as opposed to in the T-Mobile Arena. Tavares scored early on, landing a leg kick, an overhand right, and a flying knee before Leites manages to slow the pace with some grappling against the cage. Leites manages to completely stall the fight against the cage on two occasions forcing the referee to break them up twice.
Both men exchange leg kicks and jabs early in the second, Tavares getting the better especially at the shorter range, landing straight rights to Leites. Leites attempts again to get the fight to the ground but ends up getting his takedowns stuffed by Tavares. The low leg kicks begin to pile up for Tavares with Leites struggling to put pressure on his front foot.
Leites opens the third again trying to bring the fight to the ground but is again denied. Tavares knows he needs to avoid the ground at all costs. Tavares knocks Leite's mouthguard out and goes right to the leg after its replaced. A couple of leg kicks later and now Tavares can't stand and goes to the ground, hoping his opponent will follow him down. Tavares knows better With thirty seconds to go Leites goes for a double leg, misses and ends up taking a straight right to the head for his troubles.
Brad Tavares defeats Thales Leites via Unanimous Decision (30-27 & 30-26 x2)