Pa Lehane vs. Levy Marroquin set for September Combate Showdown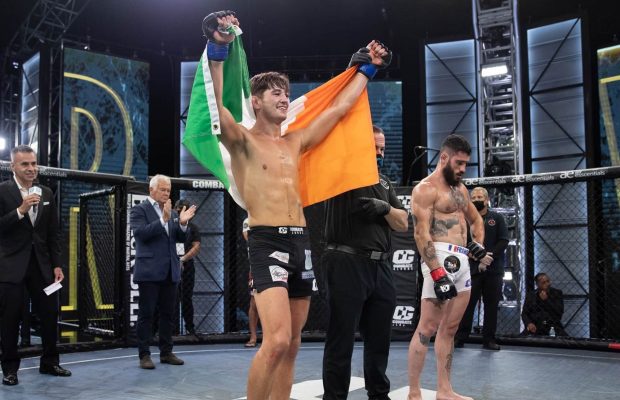 Pa Lehane (5-1) is set to take on Levy Marroquin (15-3) in a catchweight bout set for 150 lbs on a Combate Global event in Miami, Florida on September 16.
The SBG Cork standout will make his seventh appearance for the American based promotion having made his professional and Combate Global debut in August 2021. Lehane had a different opponent and date scheduled originally but that fight fell through with his original opponent pulling out and also the Cork man picked up a minor injury in preparation.
Lehane is back to full health and is eager to get back to action against his Mexican opponent , Levy Marroquin. Making his Combate debut way back in 2015, Marroquin has amassed a 8-2 record for the promotion and is riding a three-fight win-streak heading into this encounter.
Lehane, who won the SevereMMA emerging prospect of the year in 2021, is coming off his most impressive win to date having knocked out Gabriel Morales in round two in the lightweight division. The 22-year old is currently ranked at #3 in the Combate lightweight ranking and #10 in the featherweight rankings. A win against Marroquin at the catchweight of 150 lbs could bolster his rankings further in both divisions. Lehane spoke to SevereMMA about his excitement to return to action against his Mexican rival.
"I'm delighted to be back fighting after having an opponent pull out and then unfortunatly I picked up a injury", Lehane stated.
"I'm back healthy and ready to continue on my tear through the division on my way to the lightweight and featherweight belts. I think this fight will be more exciting than any of my previous fights because Levy is a tough guy and is well rounded. There will be dangerous striking and exciting grappling exchanges between both of us and I feel that I flourish in those situations. This fight will be one not to miss!"
The Combate Global event is set to take place at the Cisneros Studios in Miami, Florida. No broadcast details have been announced for the fight in Ireland/UK, stay tuned to SevereMMA for further updates. The event can be streamed on Paramount + in the United States.