EMC 10 Preview; 3 Title Fights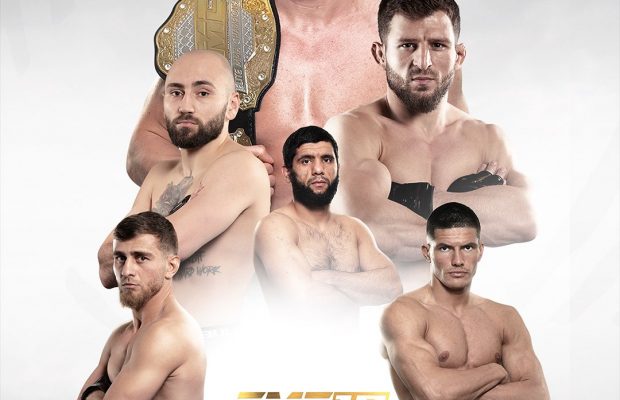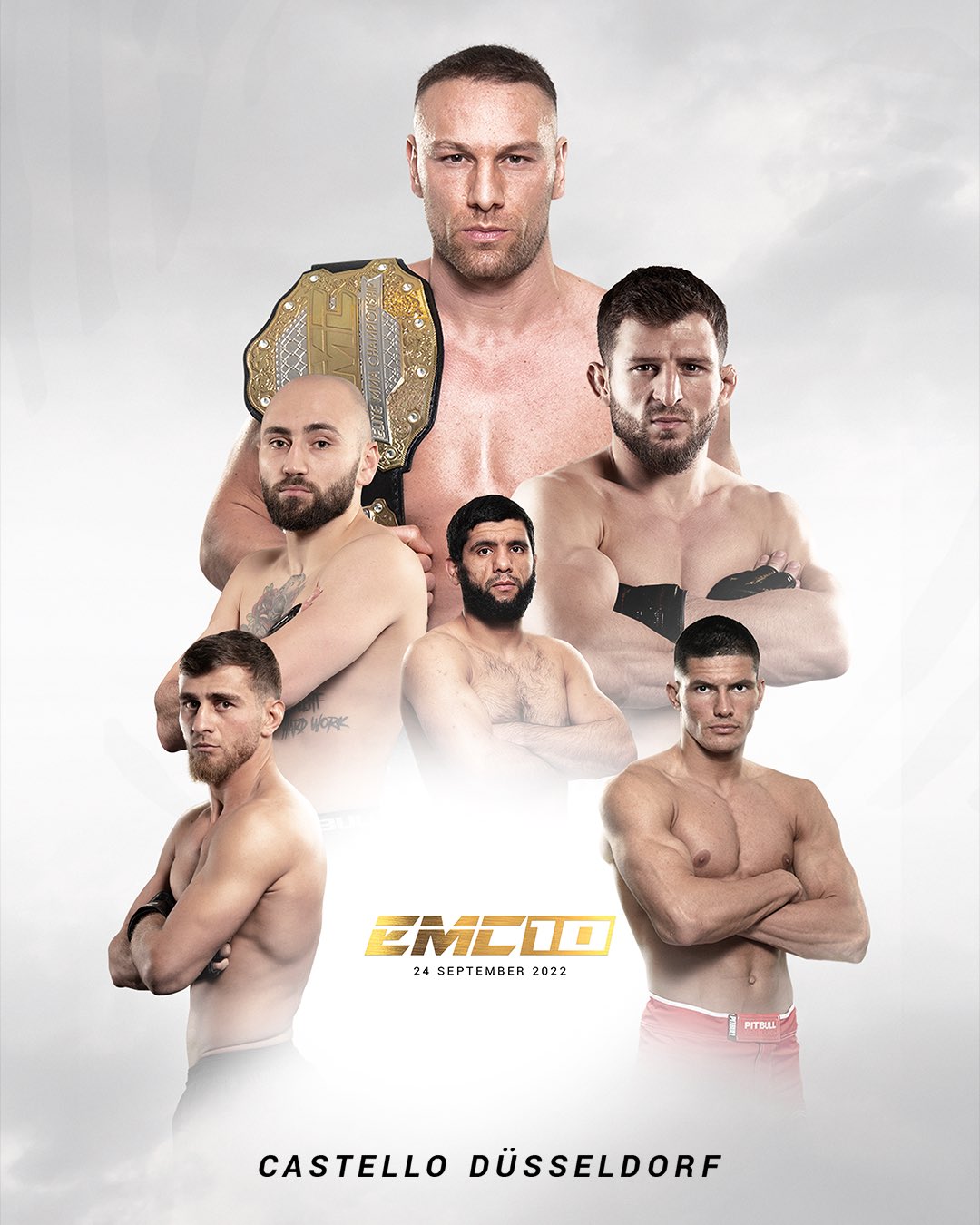 EMC 10 hits our screens on Saturday evening from Düsseldorf, Germany. The Castello Düsseldorf will host twelve fights on the night, including three fights that will be for EMC titles. Elite MMA Championship is the promoting arm of the UFD Gym in the German industrial city, a home to dozens of Europe's top talents such as Roberto Soldić, Antun Račić and Abus Magomedov. You'll find many rising stars on these EMC cards.
The main event features one of those talents. Kerim Engizek (17-4) is a man on a ten fight win streak. The Turk is a mainstay on the German scene having won eight bouts in the national GMC promotion. The 31 year old is not one to leave things to the judges. By hook or by crook, his thirst for finishes is insatiable and he can get it done wherever the fight goes. Engizek has three submissions and five knockout victories on his recent win streak, mixing good kickboxing with slick grappling. He won the vacant EMC Middleweight Championship last time out against Gabriel Barreiro via ground and pound in the first. It'll be another Brazilian opponent in Wallison Henrique (15-11) for the first defence. The Saruwatari Team fighter is an all rounder in his own right. The 28 year old has shown versatility in his game and is on a two fight win streak, winning one by knockout and another with a kimura submission. He's not coming to Germany to eke out a decision, he's coming to kill or be killed.
The next title fight is for the vacant EMC Lightweight Championship. Ahmed Abdulkadirov (8-1) was very impressive at EMC 8, winning with a big right hook knockout in the first two minutes. The only man to beat him as a pro is Slovakian UFC contender Ľudovít Klein, showing the calibre of the man. He's only gone to a decision once, with all of his finishes coming as a result of his devastating kickboxing game. Born in Austria, he trains out of Spartakus Gym in Slovakia. Alexandre Ribeiro (19-9-1) is another Brazilian fighting for a title here in Europe. Nova União is a gym that has produced champions by the boatload and "Lelek" is looking to add his name to that illustrious list. Not many fighters will have as many stamps in their passports and he's fought from Kazakhstan to Spain to Poland to Finland. Have gloves, will travel. In recent times, he's been all about the striking. The Manaus man has won by knockout in his last two fights. This should be a standup battle.
The vacant EMC Featherweight Championship is also on the line on Saturday. Fabiano Silva (32-14-1) completes the hat trick of Brazilian title challengers. The Boa Vista man is short in stature but tough as all hell. The 34 year old is a stocky striker who has experience on the European scene in EMC and FEN in Poland. He'll be looking to punch his way to the gold. Bekhruz Zukhurov (16-5) is the challenger. The Tajikistan fighter trains out of UFD. He was a mainstay on the Fight Night Global and ACA scene in recent years before making his promotional debut at EMC 9, a big left hook knockout in the third round against Paulo Bananada. The 29 year old is an accomplished kickboxer who rarely likes to fall back to his wrestling. Should be a fun one.
Lom-Ali Eskijew (19-5) has been a revelation on the KSW scene in recent times, going 2-0 against Gilber Ordoñez Huila and Damian Stasiak. He was pencilled in to fight Daniel Rutkowski in August, but pulled out late due to illness. He's one of the top talents in UFD Gym and that connection brings him to this EMC card. The 30 year old is a savage all rounder, dominant in the wrestling, quick and powerful on the feet and competitive against the top prospects in Europe. Not many have the strength of opposition on their CV that Lom-Ali does. Welisson Paiva (7-2-1) will be another waving the green, yellow and blue flag. The 20 year old Brazilian has a tall order in this one and is likely to rely on his striking to get ahead in this one. Experience could play a huge factor here.
Islam Dulatov (7-1) is part of the next wave of UFD fighters coming through the European scene. At 6ft6in, not many can match him for height or reach at welterweight. The German is another who's come up through the GMC ranks, however has fought for Brave CF, winning by knockout. He has a two pronged approach to his fighting, first is to try and knock you out with his hands, and if that doesn't work, he has a nice box of tricks to fall back on in the submission game. He's a slippery customer on the mats, snatching backs and necks for fun. Alexander Mikael (9-0) puts his undefeated record on the line in enemy territory. He'll be the first of 5 Brazilians to make the walk on the main card. I can see the Limoeiro do Norte man try to use his grappling here as he'll give up seven inches in height. We're all the same size lying down. On the mat, he has vicious ground and pound and will make you give up the back if you're not careful. Dulatov gets the test he's been looking for.
A familiar face closes out the prelim section. Walter Gahadza (18-7) is a veteran of the U.K. and Ireland scene, appearing frequently on BAMMA and Bellator in recent years. He got off to a 15-0 start as a pro, finishing opponents with ground and pound, chokes and punches along the way. It's been 2-7 since then, however the losses have been against a murderers row of opponents. The "Black Sniper" will be looking to get back to winning ways against Robert Oganesyan (8-9). The Greek of Armenian descent has a similar spicy record of late, going 4-4-1 in his last nine. His most recent wins have been by knockout and armbar. Gahadza should have all the tools to get the job done.
Deniz Ilbay (2-0) recently converted to MMA from boxing. The UFD man has produced two almost identical performances as a pro, getting the fight to the ground and finishing with ground and pound. The German has stayed active and this will be his third EMC event in a row, no rest for the wicked. Anton Franjic (3-4) is a man who's fought all around Europe, most notably in England and Poland. He's coming in off a win via ground and pound in his last one. The Austrian will be aiming to make his experience advantage count and to avoid Ilbay's early onslaught.
Daniel Alberti (4-1) is a big heavyweight out of UFD. The German has won two of his last there via knockout. Strength of opposition hasn't been too tough as of yet. Drazan Janjanin (debut) is transitioning from boxing to MMA for this. The Bosnian has a 22-37 record in the square ring, with 19 knockouts. The 33 year old won most of those bouts early in his career. Alberti should have an opportunity to decisively finish this.
Ivan Zidar (7-3) has made a statement early in his EMC career, winning both his matchups with a first round guillotine. The Croatian has fought on Cage Warriors and Fight Club Rush in the past. He trains out of Allstars in Sweden and has some classic Croatian kickboxing to fall back on. Said Eidi (6-8) has lost by a couple of guillotine chokes on EMC shows in the past, so he's viral he's learned his lesson on the third time of asking. The German is an all rounder and is happy to use strikes or submissions to get it done. Defence has been his undoing to date.
Stefano Schulze-Hagen (1-1) won via strikes on his EMC debut in April, bringing the German's record back up to even. Stanko Đurić (0-3) goes in search of his pro win. The Serbian has lost all three fights to knockout. Schulze-Hagen should fancy his chances of adding to his highlight reel here.
Wojciech Kacprzyk (1-0) is a young heavyweight training out of Octopus Łódź. The Pole scored a knockout victory on his pro debut. Saeed Younesi (4-4) has appeared on FEN and Cage Warriors, losing on both occasions. The German trains out of UFD and his wins have tended to be a result of his striking.
Tomek Łangowski (3-2) is another Pole on the card, he is on a two fight losing streak skid, with losses on LFL and Brave CF shows. "Mad Dog" had got off to a 3-0 start as a pro, winning with three knockouts, including one on his pro debut on a Cage Warriors show. Kamran Hafzabad (debut) had an amateur fight at EMC 4, winning via arm triangle in the third round. The UFD man will be looking for more of the same on Saturday and to avoid the oncoming punches.
Miljan Zdravkovic (3-0) won via decision on his Brave CF debut in December. Previous to that, he'd won two in his native Serbia. Murad Teleev (5-5) won his EMC debut via knockout, however fell short last time out via guillotine. Zdravkovic will want to strike, Teleev may mix it up more.
EMC 10 is live on Saturday evening on PPV from 18:00 at emctv.de.