Cage Warriors 144 Preview; Wooding Defends, Charriere Returns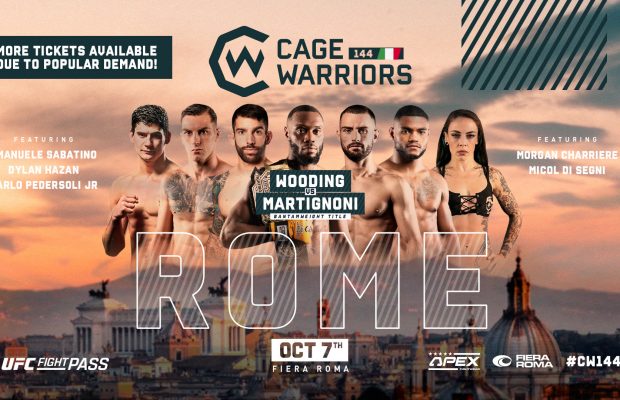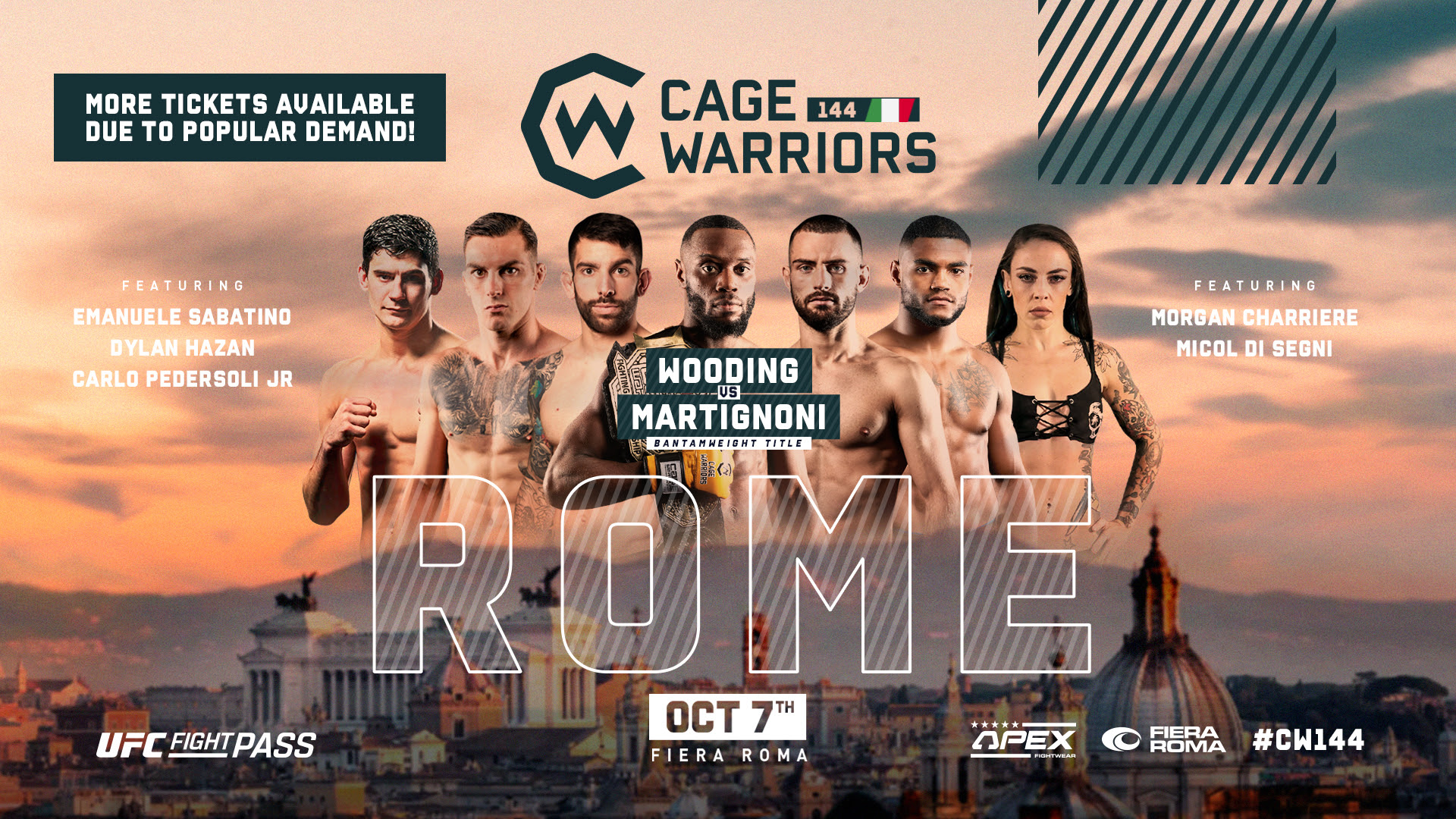 The European scene continues its hot streak this week. This time around, Cage Warriors will host their first event in Italy on Friday evening. The Fiera Roma will see an interesting nine fight card take place under the bright lights, including one Cage Warriors title fight. With all the great pizza and pasta nearby, it must be one of the hardest places to make weight.
Dominique Wooding (9-4) is a man who's been very critical of Cage Warriors as of late. A contract dispute has caused a rift between fighter and promoter following a lucrative offer from PFL. Cage Warriors were unwilling to part with their bantamweight champion and he remained under contract. Now that is behind us, it's time for Wooding to make the second defence of his crown. The GB Top Team star has been on a tear in his last three, winning all by spectacular highlight reel knockouts. The Englishman blasted Cameron Hardy and Nathan Fletcher with head kicks, and smashed Carlos Abreu with a right hand and a flying knee in his first defence back in December. He'll be looking for more of the same here in enemy territory. Michele Martignoni (7-1) is one of the rising prospects on the Italian scene and is 2-1 in the promotion. As an amateur, he represented Italia on the IMMAF scene. Hailing from Rome, he should have the crowd behind him (providing the French haven't bought all the tickets). The 26 year old has solid kickboxing and is a competitive grappler. He's picked up nice wins against Scott Malone and Weslley Maia in the yellow gloves which is a testament to his quality. The longer the fight goes on, it should favour the Italian. That is a long road though and it is riddled with danger. Dominique Wooding seems to be inevitable right now.
The most popular man in Cage Warriors makes his return. Morgan Charriere (15-9-1) is on a two fight skid at the moment, and he only lost both fights by a hair. Jordan Vucenic got the nod via split decision for the title back at CW122 and Paul Hughes won via majority decision at CW128, picking up the interim strap. Those men face off at 145 to unify that belt. It's a position "The Last Pirate" is looking to get back into, and that journey begins with the first step on Friday night. The Frenchman will be looking to put on a striking clinic in front of a huge travelling crowd. The event might be in Rome, but it might as well be in Paris. Alberth Dias (5-3) is the man tasked with facing the Pirate Army. You may remember the Brazilian as the man who beat Richie Smullen via split decision at Bellator 240 in Dublin. The 30 year old is a rugged all rounder and will fancy taking on Charriere in every realm. That'll be risky as "Chapa" will bring the heat and technique. Expect the black flag to fly high in this one.
Carlo Pedersoli (13-4) is back, making his sophomore appearance for CW, beating former champion and current UFC fighter Nicolas Dalby by split decision at CW93 in April, 2018. The Italian went on a 1-2 run in the UFC after beating the Dane, followed by a defeat in Bellator. It's been two quick knockout wins since then for the Rome man. As mentioned before, he's got that big power on the feet, however his submission game is also a big threat. You simply can't take your eye off the ball against this man. The challenger is Madars Fleminas (10-3), a man used to spoiling a party. The Latvian has two recent second round knockouts in a row against great strikers in Oban Elliott and Jesse Urholin. "The Latvian Express" trains out of Grimsby is a strong wrestler with concrete hands. Pedersoli's best chance is in the submission game, an area Fleminas has gotten caught out before. This will be an exciting duel.
Italy's biggest hope at the moment is Dylan Hazan (8-0). The Bari native was set to face Sam Creasey for the flyweight belt at CW141, however lost a battle to the scales and the fight was called off. The result is a move up to bantamweight and a march towards title contention there. Hazan is an elite wrestler with the goal of taking you down, dominating you, and trying to either submit you or ground and pound you into oblivion. Jefferson Machado De Filippis (2-1) takes this fight on a couple of days notice after original opponent Daan Duijs pulled out due to injury. The 38 year old might have more names than wins, however you can never overlook an opponent in this game. The Italian has shown grit and determination to date as a pro. His one finish was via rear naked choke submission. It's a tall order for him on Friday.
Micol di Segni (9-4) is another making their promotional return. The bruising Rome native beat the UFC's Cory McKenna at CW97 via split decision. Since then, she's competed on big cards such as Dana White Contender Series, Brave CF and ARES FC. The IMMAF 2015 world champion is a punishing heavy hitting striker with more finishes than most strawweights. Bryony Tyrell (4-4-1) is a Bellator veteran. The Englishwoman is a kickboxer and is also making a return to CW after losing to Molly McCann at CW90. She's on a three fight skid, however there's an element of "records are for DJs" here as the losses came to some of Europe's best. This is her first fight since June 2019 so ring rust may be an issue. di Segni is a tough lady to welcome you back into the fray.
Emanuele Sabatino (3-1) is another up and comer from the region. The IMMAF veteran has competed on Venator and Golden Cage shows. The Vercelli man can do a bit of everything and has the cardio to go the distance. Karol Michalak (3-2) puts on the yellow gloves once more in search of his first CW win. The Pole trains out of the Netherlands and was beaten by Ireland's James Sheehan at CW135. He's had most success with his Jiu Jitsu and wrestling as a pro, threatening with subs off his back and ground and pound. Michalak isn't afraid to strike either. Can he silence the crowd?
Dario Bellandi (2-1) is looking to get back into the win column after losing to Will Currie at CW119. The Livorno man was a decorated amateur, representing Italy at multiple IMMAF European and World games. The Italian has a lovely guillotine and is a solid kickboxer. Joan Arastey (2-0) is the only man to beat Team KF's Omran Chaaban. The Spaniard is undefeated in MMA and causes huge problems both in the striking and in the grappling. Can he cope with Bellandi's experience?
Jasmine Favero (1-0) beat Stephanie Evans at CW142 in August via knockout. The Vigonovo warrior comes straight back to get onto a card in her home country. She was a silver medalist at the 2019 IMMAF Worlds. "The Bull" has a nice armbar to go along with her power on the feet. Awa Sow (1-1) makes the short journey from France to Rome. This will be her first stint at bantamweight, having fought at featherweight in her previous pro fights. Her sole victory was via split decision in May 2021. She'll be looking to upset the apple cart with her striking.
Emanuele Zaccaria (4-1) is another Italian hopeful. The 28 year old is a strong grappler who is particularly dangerous off his back with triangles and armbars. A big, big test awaits in Bogdan Barbu (17-13), a man that's been there, done that and been given a free event T-shirt. The Romanian has competed at the peak of European MMA in promotions such as KSW, ACA and Eagle FC. The Pitesti man is predominantly a striker who is most dangerous in the opening round, whilst also being experienced in the ground game. There are ways to beat him though both on the feet and the mat, and Zaccaria will have been studying that hard.
Cage Warriors 144 is live and exclusive on Friday night on UFC Fight Pass. The prelims kick off at 18:00 BST and the main card gets underway at 20:00 BST.