The Big Breakdown: Eddie Alvarez vs. Conor McGregor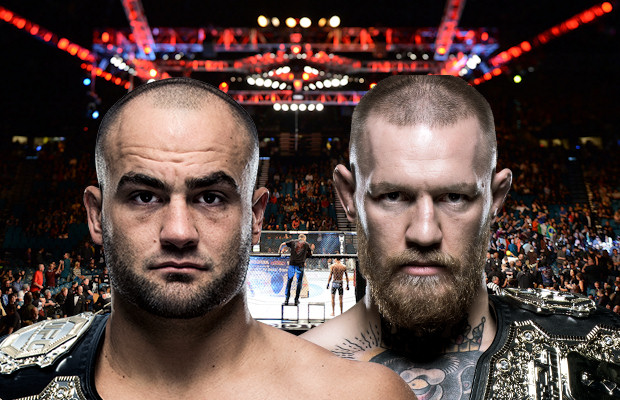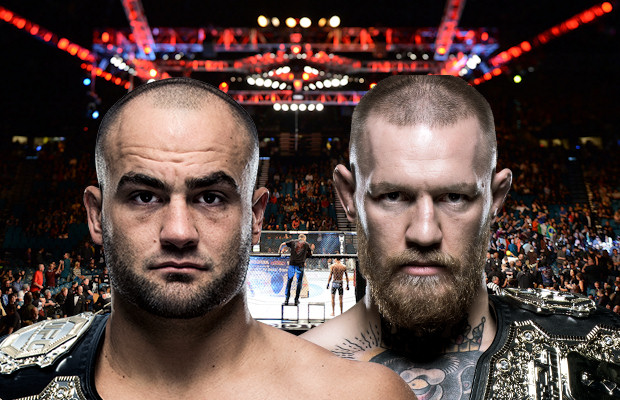 Finally, the Ultimate Fighting Championship is back in New York. After years of politicking, canvassing and feuding with the culinary union, the ban on MMA in the Empire State was removed earlier this year. And to celebrate that the UFC have given us a real humdinger of a card with interesting fights from top to bottom.
Here, I will look in-depth at the main event as fittingly a rarely seen superfight between lightweight champion Eddie Alvarez and featherweight champion Conor McGregor showcases the very best of what the sport has to offer today.
History
For Alvarez the road to UFC gold was paved all around the world over a thirteen year period as a professional. Fights in Japan, Russia and Costa Rica were a trademark of his early career before he settled in Bellator in 2009. There, he became a two time champion and cemented his place as a top lightweight over five up-and-down years of success inside the cage mixed with contract disputes outside of it. When he was finally released and subsequently added to the UFC roster Alvarez started badly – losing to Donald Cerrone in his Octagon debut – before going on a three fight winning streak to claim the title against Rafael Dos Anjos in July.
McGregor on the other hand, had a much more normal path to the UFC for a top prospect. After two losses in his first six fights the Dubliner hit his stride around 2011 as he went on a run of eight consecutive finishes which ended in him getting signed by the UFC as a two-weight Cage Warriors champion. It was around then that McGregor's road stopped being normal. In just over a year he was 3-0 inside the Octagon, had come through a torn ACL and was already an arena-packing, headlining act. Wins over Dennis Siver and Dustin Poirier followed soon after before victories over Chad Mendes and Jose Aldo saw him pick up the interim and unified featherweight straps respectively. Now at lightweight – after a loss and a win at welterweight against Nate Diaz – McGregor is attempting to become the first ever concurrent two-weight UFC champion.
Fighting Style
To do that he'll have to get through one of the toughest fighters in MMA today. In those years as the self-proclaimed 'Underground King' Alvarez developed a hard-nosed game that is difficult for anyone to deal with. He mixes pressure grappling with an opportunistic, back-foot striking style while also having the ability to get going in a war if he is dragged there.
Once a fighter who was willing to accept that battle, Alvarez is now more nuanced as an MMA practitioner. More and more over the years the clinch has become part of his game. Especially against certain styles of opponents. He uses it out on its own regularly but most of his cage grappling comes from big double leg takedown attempts which are well defended.
Once he has you against the fence he immediately goes to work and grinds you into oblivion. While all the time mixing it up, when he has to, with knees and nasty dirty boxing. Alvarez likes to get the takedown against the cage also but he's not inclined to lose heart in any way if he can't.
When it breaks from there, Alvarez is difficult to deal with in other areas too. Firstly, his blast double as previously mentioned is a good weapon which allows him to showcase an effective top game. And although he takes more shots than he would probably like it's also never easy taking part in a fist fight with Eddie Alvarez. The left hook and counter right hand are always the big ending shots but that's not all he has. In fact, when he throws them alone it's often detrimental to his game. When at his best, Alvarez will throw vicious kicks to set out his stall and ratchet titanic combinations when his opponent gives him a hint of an opening. Like we saw against Rafael Dos Anjos, a hint is all he needs.
With 17 of his 20 wins coming by knockout, the same could undoubtedly be said about Conor McGregor. Like Alvarez though, McGregor's game has vastly changed down through the years. So much so that it's hard to know what to expect from him now.
And although I used the word changed for McGregor's game, that might be giving the wrong impression a little bit. What has happened, rather than a complete change, is the addition of extra armory. When he signed for the UFC McGregor was a very well-tutored fighter with plenty of skills in his pocket but he didn't really need to use them all because of the blue screen his left hand could inflict on an opponent's CPU.
But after his ACL surgery McGregor became more of a cerebral fighter having taken time to study the game at arm's length. He went from someone who had most success countering to someone with unbelievable cage-cutting ability and pressure striking. Then, oddly enough, that was followed by a 13 second KO of one of the best fighters of all time with a counter left hook. That showed he is willing to fight with all of his new tricks while still being able to reach back into his older repertoire when needs be. That is something he will probably need to do again this time after the Diaz bouts at welterweight forced him – well, the second time anyway – to take a more tactile, precise approach using his hands for the most part.
So when looking at McGregor's game you have to be prepared for anything. He could counter and knock you out cold. He could back you against the fence and tee off at will while dazzling you will his brilliant kicks, long jab and straight left. He could meet you in the pocket and trade hands. Or he could do all of the above. You just never know. Even against Max Holloway and Ivan Buchinger in his last lightweight fight McGregor threw in takedowns for good measure. Although he's more concerned with those on defense than offense this time around.
Tactical Analysis
Although Alvarez is a very competent and confident striker you would have to think – especially after seeing his fight with Anthony Pettis – that he will want to grapple with McGregor. As detailed above, the clinch – like against Pettis – will be a huge weapon for Alvarez early. And not only will he use it in an attempt to dominate the location of the fight, he'll also see it as an opportunity to tire out McGregor who is seen by many – rightly or wrongly – as someone whose gas tank can run out early if taken to the right places.
If the clinch does come about it will be bad for McGregor and you would have to give Alvarez the advantage. But that doesn't mean it'll be a cakewalk. In the past, McGregor has shown he is no mug with his back against the cage. He is very good at stopping takedowns from there, can often get the underhook he needs to escape and even has a knockout with elbows from the clinch against Steve O'Keefe back in his Cage Warriors days. Alvarez though, is probably the best he has ever faced at that aspect of the game. He will want to get his head on McGregor's chin and keep it there for as long as he can. The battle will be huge there and could be a major factor in this one.
Then, if you look at how McGregor would want the fight to play out, you're looking at a completely different scenario. Despite the fact that he's pretty hard to chain down into a set game, one thing is always a constant for McGregor and that's him testing chins early.
Logically you would think that McGregor's game here would be one of careful pressure. Push Alvarez onto the back-foot while being cognizant of his blast double leg and his big counter shots. Use footwork to get him backed against the cage and whip in hard kicks and long punches to keep him there. If he gets into that position Alvarez will have two ways out. 1. With his hands, head and heart. 2. On a stretcher. If the past is anything to go by, option 1 is more likely when it comes to Alvarez but option 2 is hard to avoid when it comes to McGregor.
If that position does occur – where McGregor is pressuring and Alvarez is trying to escape – we have one of two of the most fight-altering positions where this fight can go. [With the second being Alvarez clinching McGregor against the fence.] On one side you have the danger of McGregor's attack coupled with his swift countering. While on the other side you have a man who just won the lightweight championship of the world with a ferocious counter shot from that position.
That is beyond exciting just to think about.
Prediction
What's a little less exciting here is giving my pick. Always, when two of the best fighters in the world meet, it's a tough job to pick a winner. But personally I only see this one going one way – and that's to McGregor. And my reasoning for it is simple. In fact, I can boil it down to one word. Speed.
There are two ways Eddie Alvarez can win this fight and they are by clinching and, separately, countering off the cage.
To clinch McGregor he'll first have to stop him coming forward. Then he'll have to stop him going sideways. Then he'll have to push him backwards. Now if he had better footwork and was faster he could do that consistently – but I don't think he has. And even if he does get that clinch, he'll need to do it over and over again with extreme dominance for five rounds because finishing McGregor from there is going to be very hard.
That leaves him striking off the cage with big shots to get the finish, or at least to get range back, as his option. That, again, is a huge factor considering his skillset and previous success. But to do that he will need to not only time McGregor perfectly, but also beat him for speed. I'd call that possible, but not probable against a rapid striker with excellent technique.
If Alvarez can do neither of those things either regularly, or with a fight ending impact, this is McGregor's fight for the taking.
For me, McGregor's ability to cut off the cage will be how he tees up the winning of this fight. Set the pace, get Alvarez backing up, use his speed, kick hard and land the right-left over and over.
Alvarez will be by no means an easy out – and if he can get through the storm early his chances will improve when McGregor naturally slows. But due to the sheer force behind McGregor's shots – coupled with his accuracy and Alvarez's tendency to get hit – it's hard to see this one going the distance.
Click here for Sheehan's Full Event Analysis and Predictions: UFC 205 – Alvarez vs. McGregor