UFC 280 Fighter to Watch: Sean Brady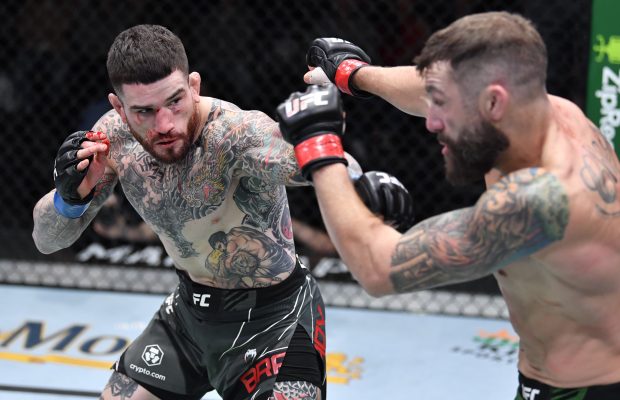 Name: Sean Brady
Nickname: N/A
Record: 15-0 overall, 5-0 UFC
Division: Welterweight
Team: Renzo Gracie Philly
Opponent: Belal Muhammad
Choosing a Fighter to Watch for an event like this is a little difficult, as Saturday's UFC 280 lineup is loaded with established talents in meaningful matchups or emerging names I've profiled in this space before, back when it lived on my Substack page.
So rather than repeat myself by highlighting the prowess of Mateusz Gamrot or Muhammad Mokaev once more, I thought I would remind everyone of the exploits of Brady, who fights for the first time since the above clash with Michael Chiesa last November this weekend in Abu Dhabi when he takes on Belal Muhammad.
How We Got Here
Brady went 10-0 on the regional scene before touching down in the UFC, capping off his unbeaten run with a CFFC welterweight title victory over Taj Abdul-Hakim. He beat a couple other familiar names prior to that — Aaron Jeffrey, Colton Smith, Gilbert Urbina — and then debuted in the Octagon with a win over Court McGee.
That's the kind of initial triumph that tells you something about a fighter, because McGee is experienced, indefatigable, and generally a pain in the ass to deal with, but Brady did well early and came away with a unanimous decision win. He followed that up with a similar effort opposite Ismael Naurdiev in his sophomore showing before submitting Christian Aguilera to push his record to 13-0 and really start gaining some momentum.
The fight that really elevated his stock, however, was his win over Jake Matthews, as he out-grappled the athletic Australian, forcing him to tap to a third-round arm triangle choke at UFC 259. While Matthews isn't a world-beater, he's the kind of aggressive, powerful youngster capable of halting someone's ascent, as we saw earlier this year with Andre Fialho, and Brady dominated him from the outset.
Eight months later, the Philadelphia native established himself as an emerging contender in the 170-pound weight class with a unanimous decision victory over Michael Chiesa, winning the first two rounds on all three scorecards before "Maverick" grabbed the final round while falling short.
Now he gets a huge opportunity against Muhammad, who enters on an eight-fight unbeaten strength and three consecutive victories, fighting backwards in the division in hopes of further tightening his grip on a Top 5 ranking and drawing closer to a championship opportunity in 2023.
What There Is To Like
Paul Felder cannot describe his friend and former training partner the exact way I think he would like to on the UFC broadcasts, so perhaps you'll allow me: Sean Brady is a brick shit house.
Felder cleans that up by calling him a "brick house," but I think my version conveys things more clearly.
Physically speaking, Brady isn't someone that jumps off the screen at you — he's 5'9″ tall with a 72″ reach, which makes him maybe a touch undersized for the welterweight division. But what he lacks in stature, he makes up in thickness and physicality, as the 29-year-old is strong as a bull, hard to move, and, well, an absolute brick shit house.
He showed flashes of his physicality all the way up through his first couple UFC appearances, and has really put it on display over his last two efforts, first in manhandling Matthews, and then in being able to dictate the terms of engagement against the taller, rangier, Chiesa through large stretches of their fight.
On top of his physical gifts, Brady trains with a terrific team, helmed by John Marquez and Daniel Gracie. The group, which includes UFC fighters Pat Sabbatini, Jeremiah Wells, Andre Petroski, and Joe Pyfer, has enjoyed a great deal of success over the last several years, and is quickly becoming one of the better "small batch" squads in the sport.
Skill-wise, he's sharp everywhere, brandishing a Brazilian jiu jitsu black belt under Gracie and strong overall grappling, clean striking technique with some pop and speed in his hands, and the previously discussed strength and physicality. He has excellent control on the canvas, is measured in his approach, and makes sound decisions and reads inside the Octagon.
Remaining Questions
So far, we haven't seen whether Brady can go five rounds, and the fact that he dropped the final round of his bout with Chiesa last May makes it a real point of interest.
Now, Brady got his nose busted up in the opening round, which compromises your breathing and means your gas tank is going to empty faster, and it wasn't necessarily that he fell off a cliff as much as it was Chiesa having the conditioning to continue pushing and maintain a good clip throughout. That said, it's one of the real points of interest heading into this fight with Muhammad on Saturday because if there are two things the Chicago native is known for, it's his pace and conditioning.
The broken nose last time out is another little something to remember for two reasons:
We've seen plenty of people get their nose busted once and then continue to struggle with it throughout their careers, and
It was one good, clean shot that busted him up, so I'm curious as to whether it was just a perfect shot or something he could be forced to contend with each time out?
Additionally, he didn't look particularly interested in dealing with Chiesa's striking in the third round of their clash, getting touched up early before dragging the fight to the floor. The fight ended with Chiesa postured up from back mount, raining down blows — it was too little too late, but it was also something to keep an eye on with Brady as he continues to push forward.
Why This Fight Is Important
Along with the obvious "he's facing a Top 5 opponent," Saturday's contest with Muhammad is a critical step in Brady's career because it should provide some clarity regarding the conditioning and pace questions that remain.
Muhammad forces opponents to play his game — to move backwards, dealing with non-stop pressure and a steady stream of entries and takedown attempts. Occasionally, he's not even looking to put his foes on the floor — he's just getting in on their hips to force them to work and pummel and defend, knowing it will pay dividends later by forcing them to expend energy.
There are paths to victory for Brady in this fight as well — he's the more dynamic fighter, the more powerful in terms of explosive attacks, and the superior finisher, so it will be interesting to see if he will be able to be the first person in some time to really force Muhammad onto the back foot.
While an immediate championship opportunity is unlikely with a victory, maintaining his unbeaten record while turning back a notoriously tough out like Muhammad would be a major feather in the cap of the fighter from Philadelphia, and potentially set up an even greater opportunity next time out.
That being said, he doesn't turn 30 until next month and is just five fights into his UFC career, so even if he does land on the wrong side of the results this weekend, it's certainly won't be the end of his time as a Top 10 fighter and someone to pay close attention to in the UFC welterweight division.