UFC Vegas 65 Fighter to Watch: Tereza Bledá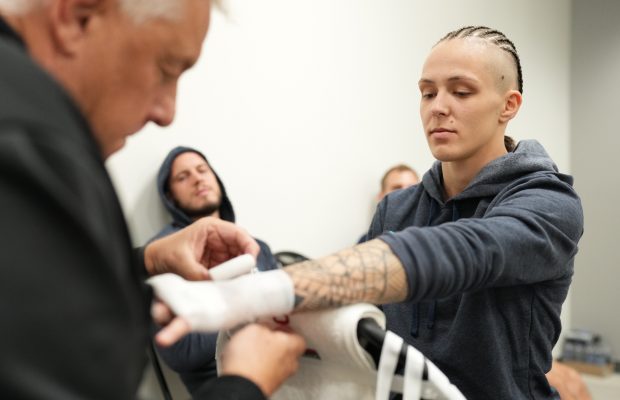 Undefeated 20-year-old makes her promotional debut on Saturday opposite fellow intriguing prospect Natalia Silva
Name: Tereza Bledá
Nickname: Ronda
Record: 6-0 overall, UFC Debut
Division: Flyweight
Team: Not Specified
Opponent: Natalia Silva
How We Got Here
At the end of the day, what matters most is that Bledá is in the UFC, because that is where she clearly should be and is going to have the best chance to gain meaningful experience.
Bledá should be part of the Class of 2022 to graduate from Dana White's Contender Series. She dominated her fight against Nayara Maia, earning 30-26s across the board, and is an undefeated 20-year-old. She's exactly what the UFC should be looking for through the annual talent search competition, and the fact that Bledá didn't earn a contract when competitors that turned in lesser efforts did remains one of those uncomfortable, subjective pieces of the show that is tough to square away.
It would make sense if this were still the "We're Only Taking Finishers" era on DWCS, but it's not. We're in the "Just About Everyone is Getting a Deal" days, and yet an undefeated 20-year-old powerhouse got passed over, while 30-year-old Hailey Cowan, who has been fighting in LFA for the last four years and won a split decision, got a deal.
(deep sigh)
Prior to her appearance in Las Vegas in September, Bledá rampaged through the flyweight division under the Oktagon MMA banner, winning three amateur fights in three months with the promotion — including one against former and current UFC competitor Lucie Pudilova — before turning pro and rattling off another five victories, claiming the flyweight title along the way.
Three of those victories came in the first round and another was inside the distance, but it's difficult to put too much stock in those conquests as the level of competition wasn't great. Now, you can only beat the person they put in front of you, and getting them out of there is better than battling to the cards, but Bledá's Oktagon opponents are a combined 3-7 since their matchups.
Even Maia whom she beat on the Contender Series is a "nice record, but nothing more" type, having never beaten anyone with more than three pro fights before defeating Reina Cordoba in April, which was the Puero Rican fighter's first appearance in more than two years.
Shorter version: Bledá should have earned a contract on the Contender Series, but at the end of the day, she's in the UFC with a chance to make an impression this weekend. She's dominated lesser competition, but that's life in WMMA beyond the biggest shows (and sometimes in the biggest shows too), and now she gets a real opportunity to prove herself starting Saturday.
What There Is To Like
What part of "undefeated 20-year-old who already beat a seasoned UFC veteran" wasn't clear?
My sense is that the "exhibition MMA" bout that Bledá won falls into the same category as the Invicta FC Phoenix Series bouts, which means that while some places don't count them as part of her official record, the UFC does, which would mean Bledá is more like 9-0 as a pro, which makes her even more intriguing.
And look, Pudilova struggled in the UFC the first time around, going 2-5 and exiting on a four-fight losing streak, but she's 11-2 outside of the Octagon and won her first fight back at UFC 272, finishing Wu Yanan. That's a real quality win for Bledá at such an early stage in her career, and all she's done since is continue to win.
If we treat those three "Exhibition MMA" bouts to close out her amateur career the way we look at Miranda Maverick's run through the Invicta FC Phoenix Series tournament, people would have a much different (read: elevated) level of excitement for Bledá heading into this weekend.
In addition to being unbeaten and having already beaten a current UFC fighter, the way Bledá is built and the physicality she brings to the Octagon are impressive and intriguing.
While she still needs to work on all elements of her game, there aren't many athletic, strong, five-foot-nine flyweights on the roster; not with a solid grappling base that they use at least. It was her physicality and ability to impose positions, land heavy blows that produced the decisive win over Maia on DWCS in September.
Spotlighting Bledá here is mostly about the future, not this weekend's fight with Silva, though that should be instructive and entertaining as well.
This is an "invest for the future" situation where it might take a couple years for the returns to come, but if Bledá progresses the way she has thus far, it will be well worth the investment and the wait.
Remaining Questions
The lingering questions are the same ones that follow every young, unbeaten fighter that reaches this level:
How will she handle the inevitable step up in competition?
What will her development arc look like?
Will she be allowed to develop and progress at a reasonable rate?
How will her first loss impact her?
Will everyone involved be patient?
What makes prospects so intriguing is that there are so many unknowns that accompany the obvious promise, and while we often project for the best and visualize those outcomes, the reality is that things can go any number of ways.
And it's rarely a linear pattern.
There will be steps forward and back, victories and defeats, and the progression though it all is going to be what ultimately defines Bledá's career, just as it has those that came before her and will those that follow behind her.
Can I see a path to her being a fighter that is a Top 15 fixture a few years down the road? Absolutely, but I can also see her washing out of the UFC in three or four fights because she's just in too deep at this point. I can see her treading water for a few years too.
All of it will depend on how those questions above get answered, and the only way those questions will get answered is through giving her time.
Why This Fight Is Important
Saturday's fight with Silva should set a baseline of expectations and give us an initial understanding of where Bledá currently fits within the flyweight division.
The Brazilian looked very good picking apart Jasmine Jasudavicius in her debut, and creates a counterweight to measure Bledá's performance against this weekend. Silva looks to be a good striker (hard to fully gauge off beating Jasudavicius) and how Bledá deals with will be telling, as will her success in grappling exchanges, which should be her main path to victory for the time being.
These are the kind of fights you want to see for a young prospect at this early stage of development, much more than say seeing her in there with an overmatched fighter on a losing streak or a veteran looking to get right.
Again, tracking Bledá's progress is a long-term thing, and this is simply a first look.
But first impressions are important, which is why I'm really looking forward to this one on Saturday.